New Piano Accordions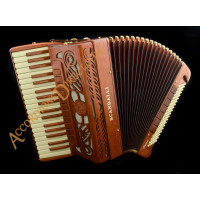 The most popular type of accordion and straightforward to play. Play like a piano with automatic chord generation from the bass chord buttons.
Our piano accordions are from top Italian manufacturers and our range features models with a variety of features and prices to match different requirements. We have models with double tone chambers (cassotto) which have a rich rounded tone, and models without cassotto for players wishing more edge for Scottish or folk music. While we specialise in accordions with Scottish musette tuning, some of our accordions are double octave tuned.
Many of our accordions are unique and specially made for us, and some have distinctive decoration, colour or finish.
For light weight accordions, check out our digital reedless accordions. And if you are looking for something different, please check our pages on Accordions Manufactured to Order and Conservatorio models.
---
Showing 1 to 35 of 35 (1 Pages)
Refine Search