New Button Accordions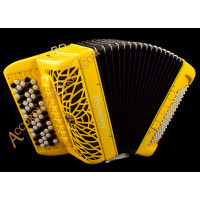 Button accordions are available in a variety of formats. Our most popular models are in the continental chromatic C system and chromatic B system accordions are favoured by some classical players. The advantage of these accordions is that the keyboard is quite compact making the instrument overall smaller. They are quite straightforward to play with white and black buttons on most being the same as white and black keys on a piano model. Key changes are simple once the fingering has been learnt.
Diatonic accordions in B/C or G/D are popular for Irish and English folk music.
---
Showing 1 to 8 of 8 (1 Pages)
Refine Search