New Accordions with MIDI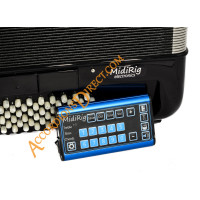 MIDI by MidiRig is fitted to a range of our accordions and is offered at an attractive price. Also, MIDI can be fitted as an optional extra to any accordion we sell.
MIDI enables a wide range of backing sounds to supplement the acoustic reeds. This adds diversity and excitement to your playing. Many of our customers who play professionally have MIDI.
The MidiRig full MIDI system features a solid state contact system (Hall effect sensors & magnets) for the whole of your accordion. The treble, bass notes and chords become MIDI, and the connection socket will usually be on the bass panel of your accordion. The standard output will be Treble on MIDI channel 1, Bass on MIDI channel 3 and Chords on channel 2. MidiRig MIDI systems are manufactured in Scotland. Fitting times are normally about 1 week and sometimes slightly longer if you have specific requirements.
MidiRig also manufactures compact sound modules (expanders) which can be purchased as an optional extra.
---
Showing 1 to 5 of 5 (1 Pages)